Research Work

1999-2006

Between the summer of 1999 and early 2005, I worked with research on Ubiquitous Computing at the Swedish IT research institutes Interactive Institute and Viktoria Institute.

My main project, Informative Art, explored ways of integrating information displays into everyday environments. My work involved developing prototypes, typically in Java, testing them in different settings and document the results in academic papers, submitted to conferences and journals. My published articles were eventually collected in a thesis, Ambient Information Visualization, in 2006.

Below are links to old pages that contain more information. Beware of table layouts, for I was a late adopter of divs. A list of all published articles can be found in the Papers section, in case you don't feel like rummaging through lackluster web designs of yore.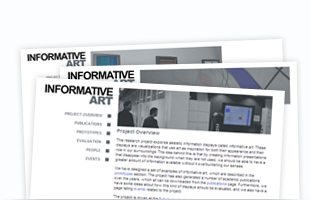 Informative Art Project Site
A page with descriptions of the various Informative Art prototypes, plus information about events and publications.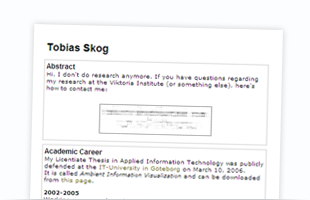 Personal Page
The last incarnation of the personal page I kept at the Viktoria Institute. Contains links to published articles.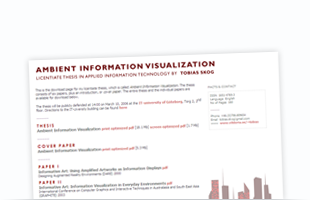 Ph. Licentiate Thesis Page
In March 2006, I presented Ambient Information Visualization, my Ph. Licentiate Thesis (about half a Doctorate, for those unfamiliar with the peculiarities of the Swedish academic system.) The page has download links for the the thesis and the individual papers included in it.
Papers
Full Papers
Full Paper @ InfoVis 2003
Skog, T, Ljungblad, S & Holmquist, LE: Between Aesthetics and Utility: Designing Ambient Information Visualizations [pdf]
Full Paper @ GRAPHITE 2003
Holmquist, LE & Skog, T: Informative Art: Information Visualization in Everyday Environments [pdf]
Full Paper @ INTERACT 2001
Hallnäs, L, Jaksetic, P, Ljungstrand, P, Redström, J & Skog, T. Expressions - Towards a Design Practice of Slow Technology [pdf]
Full Paper @ DARE 2000
Redström J, Skog T & Hallnäs L. Informative Art: Using Amplified Artworks as Information Displays [pdf]
Posters & Sketches
Poster @ DIS 2004
Skog, T: Activity Wallpaper: Ambient Visualization of Activity Information [pdf]
Student Poster @ CHI 2003
Ljungblad, S & Skog, T: Are Designers Ready for Ubiquitous Computing? A Formative Study [pdf]
Sketch @ SIGGRAPH 2002
Skog, T. Ljungblad S. & Holmquist LE: Bringing Computer Graphics to Everyday Environments with Informative Art [pdf]
Student Poster @ CHI 2001
Hansson, R. & Skog, T. The LoveBomb: Encouraging the Communication of Emotions in Public Spaces [pdf]
Student Poster @ CHI 2000
Skog, T. & Holmquist, L.E. WebAware: Continuous Visualization of Web Site Activity in a Public Space [pdf]